Men's health and prostate tumour
Men's health and prostate tumour
Dr Francesca Valvo - Medical Director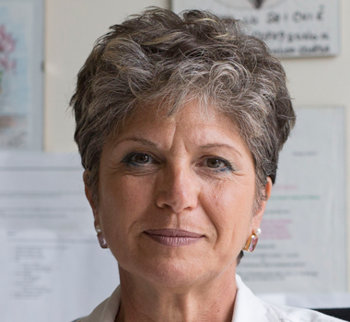 What are the main male tumours? How are they prevented?
Recent studies conducted by AIOM (Italian Association of Medical Oncology) and AIRTUM (Italian Association of Cancer Registries) provide a clear picture of how the oncological scenario in Italy has evolved.
An estimated 369,000 new cases of malignancies were diagnosed in 2017, of which 192,000 were in men and 177,000 in women. Overall, every day 1000 people are diagnosed with a malignant tumour in Italy.
In absolute terms, prostate cancer shows the highest incidence in men, equal to 18%, of all cancers diagnosed, followed by colorectal cancer (16%), lung cancer (15%), bladder cancer (11%) and cancer of the urinary tract (4%).
Unlike other tumours, there is no specific primary prevention for prostate cancer. In general, to keep a high level of mental and physical well-being and reduce inflammatory risks to the prostate, it is good practice to regularly consume fruits, vegetables and cereals, reduce the frequency and amount of red meat in our diets, avoid foods high in saturated fat, and exercise at least half an hour a day.
Secondary prevention, on the other hand, consists in undergoing periodic urological examinations starting at 60 or earlier if there are oncological cases in the family, or problems appear related to the urinary system that are not resolve after the medical therapy prescribed by a GP.
For colorectal cancer cases, screening helps identify a high percentage of these pathologies. Screening includes a fecal occult blood test (25% of identifiable tumours), a rectosigmoidoscopy (simpler than a colonoscopy) or a colonoscopy if the result of the fecal occult blood test is positive or the patient is familiar with the neoplasm (75% of identified tumours).
For lung cancer diseases, the first prevention step is certainly eliminating cigarette smoke in all its forms (active and passive). For occupational risks, it is good practice that all preventive measures be taken to minimise exposure and protect workers' safety. Although there are several ongoing studies, experts have contrasting positions on how appropriate and effective it is to regularly screen high-risk people in this area.
How is prostate cancer diagnosed? Does the PSA test work?
In recent years, screening for early diagnosis has played an important role in identifying asymptomatic prostate tumours.
When assessing the condition of the prostate, the doctor can choose a digital rectal exploration- to identify the presence of any suspicious nodules- and the PSA test, the result of which has to be evaluated taking into account age, familiarity, exposure to risk factors, and the patient's medical history.
If these tests raise suspicion for a tumour, a transrectal ultrasound and a prostate biopsy are required; the latter is the only test that can identify the presence of tumour cells with certainty.
Theses on the effectiveness of PSA screening clash, especially when it comes to early diagnosis. On the other hand, PSA screening is particularly successful to keep tumours already treated under control and/or to evaluate how effective therapies being used are.
The contrasting positions on the use of the PSA test for early diagnosis derive from the high risk of finding high PSA values even in the absence of tumours (false positives). The consequence would be to overdiagnosing, and patients may be exposed to often invasive and unnecessary diagnostic tests, and there is also a risk of complications (for example, bleeding and infections) deriving from the procedures.
The general advice is therefore to contact your family doctor, who, based on the presence of specific symptoms, will decide whether to include the PSA test in the list of your routine tests. The test results have to be evaluated in the light of various anamnestic factors and events, taking into account that a positive value does not necessarily mean that there is a tumour.
What are the most suitable therapies?
There are several options to treat prostate cancer, but each one has benefits and side effects. Based on the characteristics of the patient (age, life expectancy) and the disease (for example, low or medium or high risk), the specialist will show the different options to the patient, and will choose the most suitable therapy, obviously taking into account individual preferences as well. In some selected cases, patients with prostate cancer with localised disease can be also simply monitored with periodic "active surveillance" tests and treated, if clinical and laboratory parameters get worse.
If a tumour is confined only to the prostate, a therapeutic option is surgery: a radical prostatectomy; that is, the complete removal of the prostate, seminal vesicles and generally lymph nodes close to the tumour as well.
Radiotherapy is a valid alternative to surgery, and is applied to the patient in order to radically eliminate tumour cells with the energy deposited by the X photons produced by a linear accelerator (traditional external beam radiation therapy) or by charged particle beams generated in cyclotrons or synchrotrons, in hadrontherapy. At CNAO (National Center of Oncological Hadrontherapy), intermediate and high risk prostate cancer has been successfully treated with carbon ions since 2013.
Brachytherapy is always a conventional radiotherapy technique which, instead of irradiation by an external device such like in the external beam radiotherapy above, involves placing sealed radioactive sources carefully arranged directly inside the prostate, with direct tumoricidal action on neoplastic clones adjacent to the implant.
Following surgery, the patient with prostate cancer can, in any case, be sent to post-operative radiation therapy for consolidation as an adjuvant therapy, or for the purpose of rescue in case of recurrences or rising PSA parameters. Finally, in the setting of a patient with diffuse disease, radiotherapy can play a palliative role, to contain and/or stabilise metastatic lesions.
Other local therapies, besides surgery and radiotherapy to treat prostate cancer, but still under study and experimentation, are: cryotherapy, which involves the elimination of tumour cells applying very low temperatures, and the HIFU technique , which involves ultrasound focused on the tumour.