CNAO's Staff
Our physicians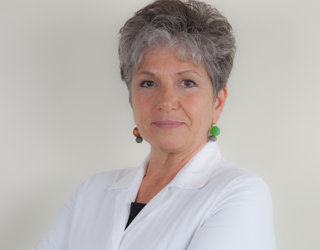 Dr Francesca Valvo
Tumours of the digestive system, Sarcomas, Lymphomas
Education and training
July 1976
Secondary School Diploma - Classical Sciences ("Giuseppe Garibaldi" School -Palermo)

December 1982
Degree in Medicine and Surgery - University of Palermo
Mark: 110/110 (highest mark) and Admission to "Albanese Prize"

November 1986
Specialist Diploma in Medical Oncology - University of Messina
Mark 60/60 (highest mark)

November 1991
Specialist Diploma in Oncological Radiotherapy - University of Milan.
Mark 90/90

July 2001 Diploma of the four-year course onpsychoanalytic training in therapeutic relationships

Career Summary
January 1979 - December 1982
Internship at the Institute of Pharmacology - Autonomous section of Clinical Oncology Department directed by Prof. Luciano Rausa - University Hospital "Giaccone" of Palermo

Fields of Interest: laboratory of clinical pharmacology - biochemical markers of anthracycline-induced cardiotoxicity, clinical activity at Oncological Outpatient Department

February 1983 - December 1987

Fellow doctor at the Medical Oncology Division of the;National Cancer Institute of Milan, directed by Dr Gianni Bonadonna

Fields of interest: malignant lymphomas and sarcomas

January 1988 - December 1989

Contracted Doctor at the Oncological Radiotherapy Division of the;National Cancer Institute of Milan, directed by Prof. Roberto Zucali

Fields of interest: testicular neoplasms and head-and-neck neoplasms

February 1990 - April 2011

Medical Director at the Oncological Radiotherapy Division of the;National Cancer Institute of Milan

Fields of interest: neoplasms of the digestive system

May 2011 - February 2014

Medical Director - Head of Department: Radiotherapy in neoplasms of the digestive system at the Oncological Radiotherapy Division of the National Cancer Institute of Milan

March 2014 - to date

Director of the Clinical Department of the CNAO Foundation (National Center of Oncological Hadrontherapy) of Pavia

Fields of interest: Oncological Hadrontherapy
Teaching
1988 - 1995
Regular teacher of the Haematology course at the Nurse's Training School of the National Cancer Institute of Milan.

2004 - 2006
Annual seminars in the four-year School of Psychoanalysis.

2002 - 2014
Short-term lecturer of Internal Medicine of the Degree Course in Nursing Sciences of the University of Milan.

2015 - 2017
Short-term lecturer in the specialisation course in Oncological Radiotherapy of the University of Milan.

Memberships
1994
Member of AIRO (Italian Association of Oncological Radiotherapy). Vice-president of the Lombardy Region Group.

1998
Member of the National Board that set the guidelines for rectal cancer radiotherapy.

January 1999 - December 2000
Co-ordinated the ARIO's Regional Study Group on Digestive Neoplasms.

September 2007
Member of the editorial staff of the psychoanalysis magazine called "Il Ruolo Terapeutico".

January 2008 - January 2010
Co-ordinated the ARIO's National Study Group on Gastrointestinal Neoplasms.

April 2009 - April 2012
Tutor of advanced courses on rectal cancer radiotherapy at ESTRO (European SocieTy for Radiotherapy and Oncology).

2003 - to date
​​​​​​​Member of the group of AIOM (Italian Association of Medical Oncology) Guidelines on rectal and anal cancers as a radiotherapist.